Oh, they're sorry. So that makes it alright does it? Useless bast*rds make me sick.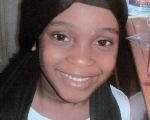 http://latestnews.virginmedia.com/news/uk/2010/07/27/starved_khyras_death_preventable
A children's services department has been accused of trying to "spin its way out of it" after admitting a catalogue of "missed opportunities" to save a seven-year-old girl who starved to death.
Khyra Ishaq died in May 2008 following months of starvation and cruelty at the hands of her mother and stepfather at their Birmingham home.
A serious case review concluded that her death could have been prevented, and occurred after the authorities "lost sight" of her.
Three social workers who were closely involved with the case were removed from frontline services and direct contact with children after Khyra's death, but Birmingham City Council refused to divulge any details about disciplinary procedures taken against them, as a local MP called for less "pen-pushing" and more transparency. The council said "Khyra's legacy" would be a vastly improved children's services department in the city, adding that it was "profoundly sorry" its staff failed to prevent her death.
brightcove.createExperiences();
But Khalid Mahmood, Labour MP for Birmingham Perry Barr, said the authority was more concerned with managing press coverage of the case than rectifying its "systemic failings". He said: "Birmingham City Council has shown that all it wants to do is invest money in spin ... and not really do anything structural. All they have done now is continue on the pen-pushing exercise of making it more difficult for social workers at the coal face to get out and do the work."
The report by Birmingham Safeguarding Children Board (BSCB)found that, despite concerns being raised by members of the public and school staff about Khyra's welfare as far back as March 2006, information was not acted upon and safeguarding procedures were not properly followed. In December 2007 Khyra was removed from school by her mother, Angela Gordon, 35, and subjected to a punishment regime which included standing in the cold for long periods, having cold water poured over her and being beaten with a cane.
She and five other children in the care of Gordon and her former partner Junaid Abuhamza, 31, at their Handsworth home were deprived of food and prevented from entering the fully stocked kitchen by a bolt fixed out of their reach on the door. During the course of 2007, Khyra missed 26 appointments with various welfare agencies - mainly health related - but no information was shared, nor action taken.
Poor communication between agencies meant that the children's plight - and Khyra's plummeting weight - went largely unnoticed. The report revealed that Gordon's aggressive and hostile response towards welfare professionals who called at their home in Leyton Road, Handsworth, affected their handling of the case. The report continued: "Whilst a number of agencies and individuals sought to deliver effective services to the child ... there were others who lost sight of the child and focused instead upon the rights of the adults, the adults' behaviours and the potential impact for themselves as professionals."
The serious case review, which began in May 2008, concluded: "Had there been better assessments and effective inter-agency communication over a period of time it (Khyra's death) could have been prevented. There were a number of early missed opportunities for intervention by professionals."
In March, Mr Justice Roderick Evans sentenced Gordon to 15 years and jailed Abuhamza indefinitely for the public's protection, with a minimum term of seven and a half years. The pair were cleared of murder during a trial at Birmingham Crown Court but convicted of manslaughter.
there were others who lost sight of the child and focused instead upon the rights of the adults, the adults' behaviours and the potential impact for themselves as professionals."

This is the root of the issue. The rights of the child to safety must outweigh the rights of the parents.
And just becuase the mother was agressive when social workers called around was no reason to do nothing. In fact, a court order for the removal of the children should have been undertaken when the mother refused access, and all the children forcible taken away. This should happen to all parents who refuse to allow social workers to fully examine their children.
And why wasnt information being shared between different services? This is why there needs to be a central database of information across govt departments. It should be up to individuals to pass on information, it should be readily available. Privacy rights as second to the health, wellbeing and safety of the children. Once a child has concerns raised, then all of the information regarding that child needs to be available to all agencies straight away. If this was done by a system, then all the missed medical appointments would have been picked up and acted upon.
I truly believe that parents should not receive welfare for their children if they are not caring for them, and that regular health checks, (simple ones such as checking weight and for bruises, major developmental milestones etc) should be done and if not done, then no money. That means that children cannot be starved to death, as money would stop as soon as the health checks are not done. Very radical I know, but when someone receives money to care for children then they should have to prove they are doing it.
We have the same issues here. And the same tragic results.

dianeh

Grand Member





Number of posts

: 3465


Age

: 54


Location

: Outback, Australia


Registration date :

2008-04-27



Sorry? Sorry? You idiots. Shame on you.

Pedro Silva

Grand Member





Number of posts

: 5582


Location

: Portugal


Registration date :

2008-10-20



Just how many more children are going to lose their lives and how many more "lessons are going to be learned" by these inept councils? Shame on them all. Sorry isn't enough.

May

Master





Number of posts

: 498


Registration date :

2008-07-27




---
Permissions in this forum:
You
cannot
reply to topics in this forum