The girl snatched and held for 18 years by paedophile Phillip Garrido is to tell her incredible story on Oprah Winfrey´s chat show. Previously, Oprah has interviewed Kate and Gerry McCann, who chose her show to raise awareness of their daughter Madeleine´s disappearance. A spokesman for Jaycee´s family said: "We hope Jaycee´s safe return will give hope to Madeleine´s family".

Pedro Silva

Grand Member





Number of posts

: 5582


Location

: Portugal


Registration date :

2008-10-20



My friends, if you wish more information about this, please go to the British newspaper The Mirror, because there is more information there. Just look for this title written above, at The Mirror newspaper.

Pedro Silva

Grand Member





Number of posts

: 5582


Location

: Portugal


Registration date :

2008-10-20




Jayelles

Apprentice





Number of posts

: 380


Location

: Scotland


Registration date :

2009-04-19



aycee Lee Dugard is claimed to have been chosen by Phillip Garrido because she was 'cute'

By
Daily Mail Reporter
Last updated at 8:58 PM on 13th September 2009
Freed: Jaycee Lee Dugard was held captive for 18 years
Jaycee Lee Dugard was picked during a 'child shopping' trip because
Phillip Garrido thought she was 'cute', his wife Nancy has reportedly
told investigators.U.S. attorney Michael Cardoza told The Sunday
Telegraph that she had revealed the details of how the then 11-year-old
was snatched from the street outside her home in South Lake Tahoe in
California in 1991.Nancy Garrido is said to have revealed how
the couple - accused of kidnapping, rape and false imprisonment -
decided not to take Jaycee because she was with friends, instead
following her home and returning the following day.
The pair are accused of bundling Jaycee into their car as she walked to a bus stop.On
seeing the schoolgirl, Garrido is said to have told his wife: 'That's
the one I want. She's cute, but she's with the other kids. Let's come
back later and get her.'
Mr Cardoza added: 'This was
nothing less than a child shopping trip. It just makes their actions
all the more horrendous and reprehensible.' Other shocking
details have emerged surrounding the case including claims that ten
years after the abduction, Garrido gave safety advice to a child safety
campaigner who had tasked his company with printing a pamphlet on
kidnap prevention.
Janice Gomes told The Sunday Telegraph: 'Phillip offered a couple of suggestions if we were updating the leaflet.
'He
said: "Children should never walk to a bus-stop by themselves. They are
no match for an adult so there should always be an adult with them."'
Accused: Phillip Garrido and Nancy are said to have come back the following day to get Jaycee
Mrs Gnomes also said that Garrido had given an argument against the
theory of 'safety in numbers' for unaccompanied children, saying that
an attacker could target one if the others ran off.
She
said: 'It just seemed like sensible advice that children should always
be in the company of an adult, even if you think they are safe.'In another disturbing revelation, Garrido is said to have written a number of suggestive songs referencing children.His
former client Marc Lister says he gave him a CD of his songs with
lyrics which include: 'The way she walks, yeah, subtly sexy/What can I
do? I fall victim too/A little child, yeah, look what you do.'Another
lyric reads: 'Mother in your eyes, deepness in your pride/played well
when I first met 'ya/Saved from the days, I kept saving you, but in the
darkness you remain/Everybody pays in the human race/Being abused and
used as devices.'Mr Lister told the Contra Costa Times: 'I think
there's some sort of a message here. I think it's disturbing. I'm
surprised he wrote lyrics about some of the things in here,
whether for the girls or his own mental outlet. It's a little bit twisted. It's not right.'It has also been claimed that Jaycee, now 29, will tell her life story on Oprah in December for an estimated $1million fee.
Read more: http://www.dailymail.co.uk/news/worldnews/article-1213191/Jaycee-Lee-Dugard-claimed-snatched-Phillip-Garrido-cute.html#ixzz0R2Rbi3II
So she was not snatched off the street at random but targetted on a "CHILD SHOPPING TRIP"
There is another young girl taken in 1988 who was also from California and looked like Jaycee. Her name is Michaela.
Here is the link to her.
http://www.missingkids.com/missingkids/servlet/PubCaseSearchServlet?act=viewChildDetail&caseNum=717172&orgPrefix=NCMC&seqNum=1&caseLang=en_US&searchLang=en_US
A neighbour reported that there was at one stage 5 young blonde woman and girls living in the backyard. Michaela's mother thinks that Michaela may have been there, and is waiting for the police to interview Jaycee to find out if she was. Michaela's mother has never given up on her, and has always felt there was a link between Michaela's and Jaycee's disappearances.
Here is a photo of Michaela. She is very similar to Jaycee and was of a similar age when abducted.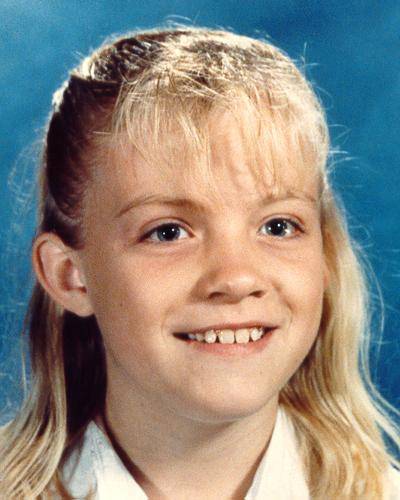 Just look at her.
She is so much like Jaycee.
If Garrido went shopping for a little girl who looked like this, then he preferred this type. It is quite possible that he did take Michaela as well.

dianeh

Grand Member





Number of posts

: 3465


Age

: 54


Location

: Outback, Australia


Registration date :

2008-04-27



Disgusting.

Men going out shopping for their next prey....stalking and watching watching and stalking until they find the right moment to pounce on the unexpected person.People like this should be put to death...........and what makes it worse is that when these people have been taken and abused they often end up feeling a lot of guilt and blame themselves for being in the wrong place at the wrong time.Infact it isn't them,they weren't in the wrong place at the wrong time at all....they were seen and then chosen.It does matter where they are or who they are with because if they have been chosen they will be targeted and if they cant be taken at that precise time they will be stalked and watched until they are alone and vulnerable enough for their sick abductors to strike.



As parents we just don't know whats safe anymore for our kids...even playing right there infront of you can be dangerous if there's some crazy freak watching them targeting them and then planning to come back when they are alone.Madeleine could very well have been chosen that way.

I have always been particularly careful about where my little girl is and who she is with.But that isnt enough because it doesn't matter who your child is with,if someone sees them,and chooses them,they can target them and try to come back when they are alone.Not a nice though hey.
These men should be put to death.

My daughter as never ever wore a t-shirt or hat or anything else that as her name scrolled across it either.A program i once watched(which highlighted the dangers of stranger danger) said that if you let your child walk around with their name written all over them your letting people know their names...and an innocent child playing with their friends maybe wouldn't think twice of walking off with someone who who called them by their actual name and said that they had to go with them because mammy had sent for them.Its sickening that our kids are targeted this way. The program also highlighted the fact that most children see strangers as horrible looking people,scary etc and not nice to them.
If you ask your child to draw you a stranger and they draw some deluded creature that resembles some sort of monster or horrible scary looking person then you have a problem.

clairesy

Grand Member





Number of posts

: 2698


Age

: 33


Location

: uk


Registration date :

2008-06-04




Catkins

Grand Member





Number of posts

: 1829


Location

: UK


Registration date :

2009-02-11



And yet the PJ dismissed this out of hand.

bluj1515

Grand Member





Number of posts

: 1017


Location

: United States


Registration date :

2009-06-30




---
Permissions in this forum:
You
cannot
reply to topics in this forum